1935 Ford Roadster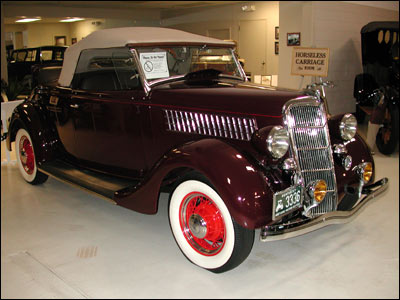 The 1935 Ford was one of the sportiest and fastest cars of its day. The peppy little Ford V-8 engine was very popular. In fact, Clyde Barrow(Bonnie and Clyde) once wrote a fan letter to Henry Ford praising the Ford V-8 because its speed and pick up made it a great get-away car. A copy of his letter has been obtained from the Ford Museum in Dearborn, Michigan and is on display on the next easel.
ENGINE:
90 DegreeV-8 Head
Cast Iron Buck
221 Cubic Inch Displacement
3 Main Bearing
Mechanical Valve Lifters
2 Barrel Stromberg EE-1 Carburetor
Mechanical Four Wheel Brakes
16 Inch Wire Wheels
PARTICULARS:
This was a body-off, frame-up restoration in 1988. Everything was professionally restored to original. The odometer then read 18.000 miles, but it is not known whether this is correct. This car is an AACA first place winner and has often been judged "Best In Class."
OPTIONS:
Rumble Seat
Radio
Dual Horns
Fog Lamps
Greyhound Hood Ornament
Luggage Rack
Side Curtains
This little beauty is as smooth and peppy as ever. Is it fun to drive? You bet it is!