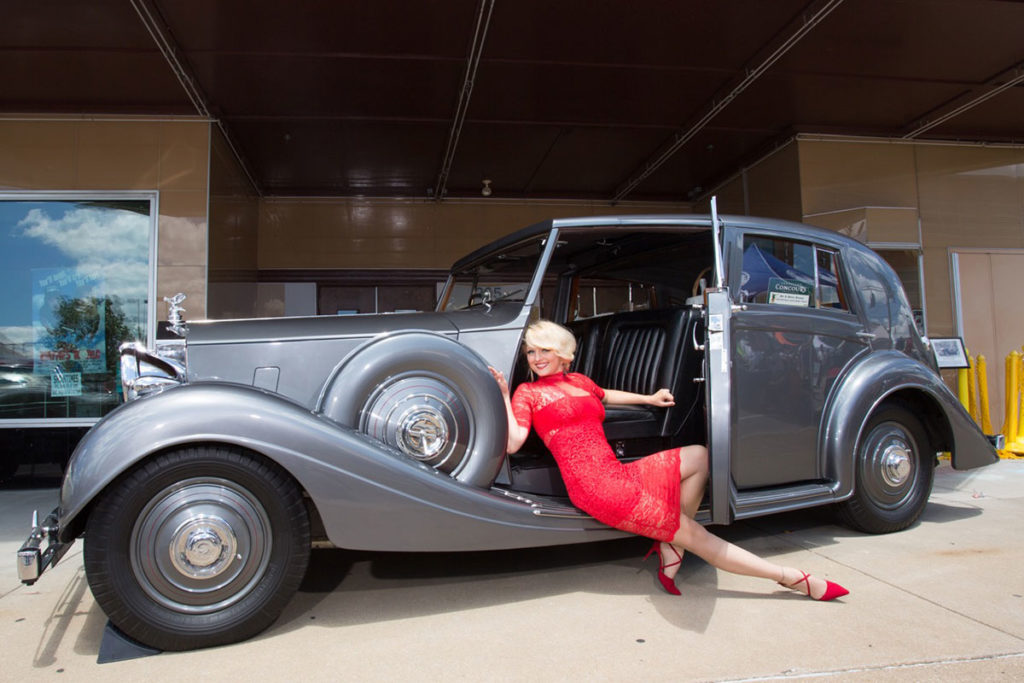 In late July 2017, the Swope Cars of Yesteryear Museum partnered with the Swope Family of Dealerships to create a magical moment for the winner of the Cruisin' the Heartland's Marilyn Monroe contest.
To win the title, Savanaha Campbell McGrew sang "Happy Birthday" to a gentleman who couldn't believe his luck. She blew away the judges and, once she won, the Swope Family of Dealerships surprised her with a photo shoot with one of our historic vehicles. Clagett Photography generously offered their services and we decided that the best match for Marilyn Monroe was the stunning 1939 silver Rolls Royce that we acquired last year. We think you can agree that the photo shoot was a huge success, set brilliantly in front of The Historic State Theater.
While we think Savanaha makes a stunning Marilyn, the 1939 Rolls Royce Wraith Sedanca De Ville is of equal star quality. The last pre-war Rolls Royce model built, this vehicle is one of only 492 that rolled out before the Rolls Royce factory was switched over to help with the war effort. This particular Wraith was one of only four of its kind to be built by prestigious custom coach builder J. Gurney Nutting, which made it a collector car from the beginning!
This particular Rolls Royce stayed with the descendants of the man who originally purchased it, A. Bradley Cambell of London, until last year, when the Swope Cars of Yesteryear Museum acquired it. It's rare to find an antique car that's been so well-preserved and so cherished in a family for generations, but when you know the history of this vehicle, it makes more sense. One highlight? This Rolls had a harrowing history that included an escape from Nazi Germany!
At Swope Cars of Yesteryear Museum, we're grateful to be able to give back to the community that has made the Swope Family of Dealerships a part of their lives for more than sixty years. We're especially grateful to be able to preserve a piece of history like this 1939 Rolls Royce. The museum is open six days a week, 10am to 5pm, and is free to the public. Come take a look at the more than sixty vehicles we showcase and delve into our vintage car library and DIY car video theater as well!