1948 Packard Victoria Convertible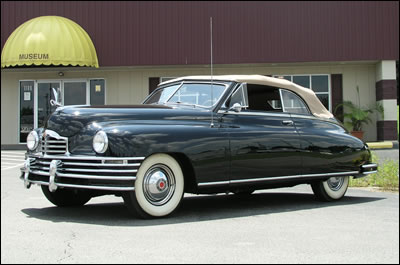 Although over fifty years old, this handsome Packard super 8 remains a daring concept of what a convertible should really be; big, elegant and flashy! Every breath-taking inch of this car is Packard precision-built.
With only 23,000 documented miles, this is an unrestored "original." original upholstery, original black lacquer finish, original engine and drive train. This car was driven only sparingly before it was placed in covered storage. There it remained untouched for many years.
Specifications:
Straight 8 Engine with Overdrive
Power Top
Power Windows
Power Seat
Radio and Heater
The 1948 model was the first restyled Packard following world war II
This Packard is more than a museum piece. It is also a "driver." handling is superb. It will journey all day at highway speeds. The ride? It is as gentle as silk and as hushed as a whisper in church. Power? It is hard to beat a big straight eight. This is a car that can be driven for the sheer fun of it.
Sleek design. Luxury appointments. Sporty appearance. Smooth comfort. Fierce body integrity. This Packard comes close to achieving the ultimate in motoring pleasure and pride of ownership. "ask the man who owns one."