1937 Lincoln Zephyr Coupe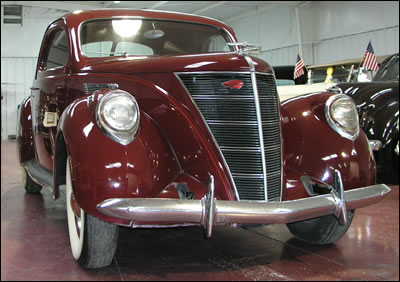 L Head V-12 Cylinder Engine.
110 Horsepower.
112-Inch Wheelbase.
Stromberg Down Draft Carburetor.
Semi-unitary Body Construction and Ultra-streamlined Appearance.
The Lincoln Zephyr was one of the most handsome American cars of the 1930's, as well as one of the most revolutionary. Produced by the Ford Motor Company, it was advertised as "a sensational, completely new motor car."
The word teardrop was applicable to the overall sculptured form of the Lincoln V-12 Zephyr Coupe.
The sloping rear deck, curved side window corners, simple grille with horizontal bars, in combination with headlights fully molded into the front fenders, all were successfully coordinated in an appearance that gave life to the expression "streamlined".
Only 5,199 coupes were produced in 1937. They sold new for $1,165. The few that have survived make this Model A valuable and much sought after collector car.